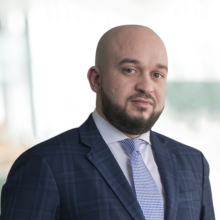 Youcef Bihane
Our Director
Youcef is a VAT Director at ATOZ Services.
He started his career in a Big Four in 2010 before joining ATOZ in 2017.
With 13 years experience in the VAT field, Youcef is focused on rendering VAT compliance services to a diversified client portfolio, including investment funds, asset management, private equity, real estate and operational companies.
Youcef holds a degree in management and accounting (DCG) from the Institution De La Salle in Metz and a diploma in Luxembourg Taxation from the Chambre des Salariés Luxembourgeois (CSL). He is also a Chartered Accountant, registered at the Luxembourg Ordre des Experts-Comptables (OEC) since 2017.
 He speaks French and English.
View all our people