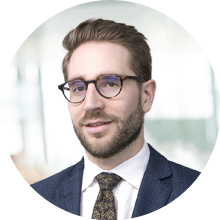 Richard Fauvel
Principal
Richard is a Principal at ATOZ Services.
Richard joined ATOZ Tax Advisers within the Corporate Implementation department in 2010 and advised private equity and real estate funds as well as multinational corporations on structuring and financing of international transactions. He also has strong experience in joint ventures, corporate governance and operational matters.
Richard is qualified as a Chartered Accountant in Luxembourg ("Expert-Comptable") and has successfully passed the CCDL (Cours Complémentaires en Droit Luxembourgeois) exam.
Richard holds a Master's degree in Business Administration from the University of Caen and a Master's degree in International Business Law from the University of Rennes II. He also spent a year at the University of Groningen in the Netherlands studying International Business Law.
He is a member of the Institut Luxembourgeois des Administrateurs' (ILA) Company Secretarial & Governance Officer Committee.
He speaks French and English.
View all our people