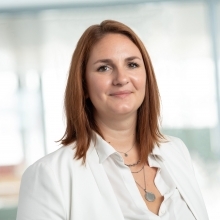 Gaelle Bernard
Partner
Gaelle is an ATOZ Services' Partner.
Gaelle joined ATOZ Tax Advisers within the Corporate Implementation department in 2008, where she was involved in the implementation of complex corporate structures involving multiple jurisdictions and advisors for a large range of institutional investors in the private equity and infrastructure sectors, in addition to general company and commercial law, mergers & acquisitions, joint ventures and group restructuring matters.
Before joining ATOZ Services, she headed the corporate secretarial and domiciliation department in a reputable and well-known global investment bank in Luxembourg, where she managed the team and department, overseeing a portfolio of highly regulated and unregulated funds.
She holds a post-graduate degree in International Business Law from the University of Rennes II in France and a Master's degree in Business Law from Trinity College in Dublin, Ireland.
She speaks French and English.
View all our people