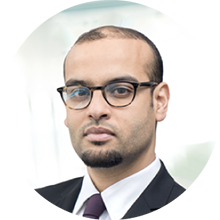 Chafai Baihat
Partner
Chafai is a Partner at ATOZ Services.
He has more than a decade of international experience in the field of corporate and management services, having worked in Paris, Dublin and Luxembourg. He started his career at Accenture where he was responsible for the advisory, financial metrics and pricing calculations for listed companies.
Chafai has extensive experience in the management of complex cross-border corporate structures and serves as director on the board of many clients' investment vehicles, assisting them on maintaining a high level of governance and compliance with regulatory requirements.
Alongside a Master's degree in Finance and Accounting from ESCIA Business School in Paris, Chafai is also a chartered accountant in both Luxembourg and France.
He speaks English and French.
View all our people