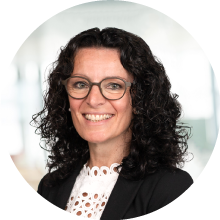 Samantha Schmitz
Of counsel
Samantha started working in Luxembourg in the tax department of Arthur Andersen in 1998 and subsequently Ernst & Young (now EY) in 2002 where she was intensively involved in international tax projects focusing on the financial & private equity sector. 
She has been leading the knowledge department within ATOZ since 2005 and holds the role of Chief Knowledge Officer. She has been actively involved in various industry groups including the ALFI Double Tax Treaty sub-committee. At the end of 2009, she was appointed as a member of Taxand's core knowledge leader team. 
Samantha is the author of numerous articles on tax-related topics published in various professional journals such as the International Tax Review, Tax Notes International and Bloomberg BNA.
Samantha holds a DJCE, DESS in French Business and Tax Law from the Université Jean Moulin (Lyon III, France), as well as a Bachelor's degree in German and French Business Law and LLMs from the Universities of Paris - Sorbonne (France) and Cologne (Germany).
She speaks English, French and German.
View all our people